Higher signal speed provide RG 11 coaxial cable - Gangtok
Saturday, 1 April 2017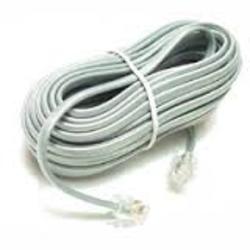 Contacts

SURESH LOKHANDE

08959188333
Item description
"RG11 is a 14-gauge wire, a higher gauge than other video cables, giving it more room to transfer signal. RG11 cable provides 3Ghz frequency for CATV, HDTV, TV antenna, and video distribution. It is ideal entry-point feeder systems running into building and extending to each floor and room of commercial and residential buildings. It is also great for improved audio and video performance in home theater applications. Our RG11 coax cable is UL and/or ETL verified as well as RoHS complaint—our cable meets and exceeds industry standards.
While RG11 coax cable does provide higher speeds, it lacks flexibility necessary for casual use and isn't designed to bend around sharp corners or turns. Because of its thick size, RG11 coaxial cable is most often used as long-length, "backbone" cable thereby fully taking advantage of its high speeds, excellent attenuation feature, and low signal loss. End-users of RG 11/U Coaxial Cables benefit from higher signal quality for television, cable and internet transmission and increased safety.
We carry all of your RG11 connectors. Check out this RG11 BNC Connector and RG11 F-type connector. With these compression connects you will get a great connection for your RG11 coax cable runs."